Archive for Elizabeth Hines
---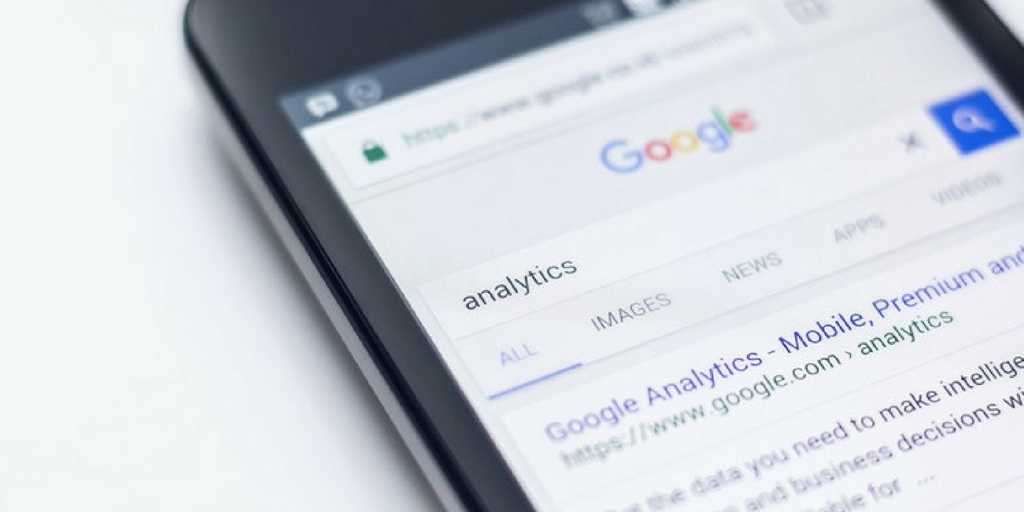 Measuring social media ROI can be a daunting task, but Google Analytics can help. Gauge the effectiveness of your social media strategy using these four data points in Google Analytics.
Many real estate businesses struggle with measuring social media ROI. Even for seasoned content marketers, the collection of data is one of the most daunting tasks. But it's important to get it right, for several reasons:  
To understand how your strategy is working. 
To determine where changes need to be made.

 

To allocate appropriate resources. 

 
Don't waste time trying to track down information on your various social accounts to measure social media ROI when you can find the most pertinent information with a single tool. The best part is: You're probably already using it. (And it's free!)  
You need data to measure social media ROI
Google Analytics is an incredible tool for businesses large and small looking to gain insight into the who, when, and where of their web traffic. And while it may seem intimidating to the novice, it's very easy to use once you know where to find what you're looking for.  
Here's how to start gauging the effectiveness of your social media strategy — and measure social media ROI for real estate. 
Step 1: Look at where your traffic is coming from.
How much of your traffic is coming from social media? Google Analytics will provide an overview of the overall traffic sources that deliver visitors to your website, including traffic from social media. This high-level view of your traffic includes: 
 

Search (people clicking through from Google or Bing)

 

Social (Twitter, Facebook, etc.)

 

Direct (people typing your site in their browser or bookmarks)

 

Referral (people clicking links from other sites to get to you)

 

Email

 

Paid search

 

Other

 
To access this report in Google Analytics, go to Acquisition > All Traffic > Channels. 
Go a step further and review the volume of traffic that comes from specific social media networks, by clicking on Acquisition > Social > Network Referrals. 
It's important to have a diverse mix of traffic sources, which should be reflected in the traffic sources report. If a large portion of your traffic comes exclusively from one source, especially if that source is not social media, it is time to reconsider your social media strategy. Similarly, if one network is driving most of your traffic, you should examine when and what you are posting in the non-performing channels. 
Step 2: Determine revenue derived from posts.
Make sure to include links back to your site when you post on social media so that Google Analytics can track and analyze them. You'll want to add a UTM code (aka UTM parameter), which is text added to the end of a URL (after the "?") to identify the success of a campaign. As an example, the UTM code is in boldface below: 
https://www.fronetics.com/microsoft-linkedin-product-synergies-floor-b2b-marketers/?utm_content=36244275&utm_medium=social&utm_source=facebook 
You can set unique UTMs for all of your social media, per channel, or even per update. By analyzing your different UTM parameters, you can determine which URLs are most effective in driving users to your content. 
Set UTM parameters through Google's URL Builder. Once your parameters are set, you can go to Acquisition > Campaigns > All Campaigns to see the revenue from any individual UTM tag, like a post or tweet. 
Step 3: Look at how your content is being digested.
Analytics allows you to see how long a visitor stayed on your site, (use the Duration goal to find out). Examine how content and properties resonate with the social media audience by using Set up the Pages/Screens per Session goal or learn how many times visitors from social media play website video with Create an Event goal for specific tracking. 
Step 4: What is social media bringing you in conversions?
Google Analytics has conversion funnel reports that show how much social media is contributing to conversions. To set up conversion funnels in Google Analytics: 
Use the Goals section and connect any type of conversion event. 
Access your funnel report through Conversions > Multi-Channel Funnels > Top Conversion Paths.

 
These four insights from Google Analytics can help you determine how effective your social media strategy is in terms of traffic, direct revenue, visitor behavior, and conversions. Use this information to continually measure social media ROI and refine your strategy to get the most out of your social media presence for your brand and properties. 
Related posts:
Archive for Elizabeth Hines
---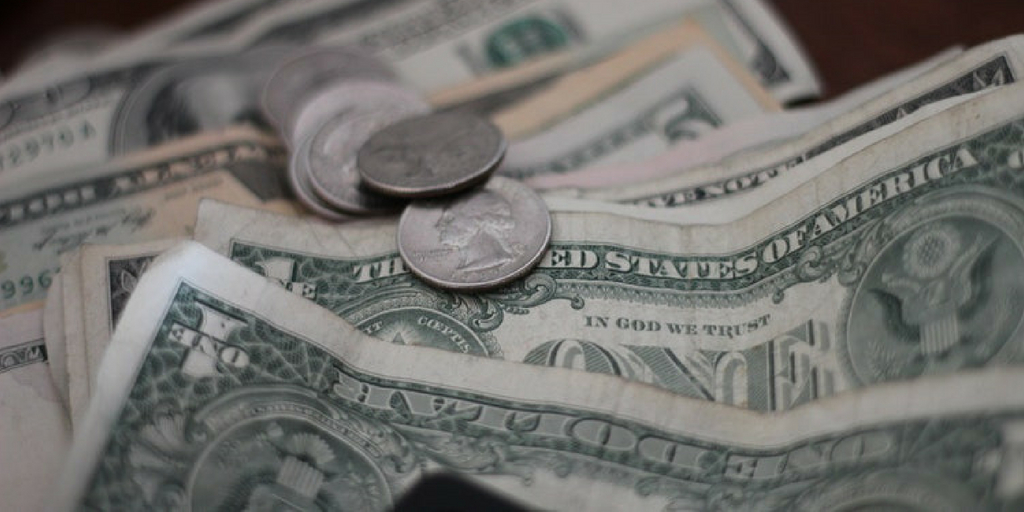 Social media gives you access to aspirational buyers and their networks, a benefit that can't be quantified in dollars. It's time to redefine social media success.
One of the trickiest things about implementing a social media strategy is that social media success can be difficult to measure. While most real estate professionals acknowledge that a social media marketing presence is important, it's hard to make a case for resources when you can't precisely quantify the value in terms of dollar amount. 
Of course, you shouldn't stop recognizing the importance of social media as part of a robust marketing strategy. You need to start thinking about value in terms of potential, rather than an immediate sale or rental. 
Social media success in real estate will seem more attainable if you: 
Shift the focus from short-term sale to the long-term value of social media.

 

Trust your efforts will pay off, even if not immediately.

 

Find new ways to measure results over time. 

 
Social media success comes from access to a new audience
Social media allows real estate professionals to discover and engage with a new segment of the market: aspirational buyers and renters. Suddenly, you are faced with an exciting prospect: access to a population that businesses in the past could not reach. Now that we can find out who they are, their long-term value cannot be overstated: 
They are your potential buyers.

 

They can build brand loyalty for your business.

 

They can engage with your properties. 

 
According to a recent study published in MIT Sloan Management Review, aspirational buyers are likely to follow multiple brands on social media sites. Over half follow at least one brand that they haven't made a purchase from. But, "our data suggests that they do plan to purchase in the future," say the study's authors. "Today's followers are very likely to be tomorrow's customers."  
It's easy to see the implications for real estate marketing, as you can target your messaging for individuals who may not yet be ready to sign a contract, but who are following your properties with interest. 
The social network = social media success
There's another factor to consider regarding the value of social media marketing. At its core, these are networking platforms. That means you not only have access to a new audience base, but to their connections as well.  
Your followers' engagement on social media can expand the reach of your brand and properties, as they engage with their own networks. Putting a dollar value on such social reach is fairly meaningless — but it has the potential to add to your bottom line both now and in the future. For social media success, reach is an important part of the equation. 
What's more, a recent McKinsey study attributes word of mouth to be the primary influence for up to 50% of all purchase decisions. The study authors go on to say, "Followers who are not yet purchasers can share their experience with the brand, and deepen their commitment to the brand, even prior to that first purchase." 
It's time we start thinking about social media success in this new way: in terms of potential and expanding value, rather than just immediate dollar amounts. 
Related posts:
Archive for Elizabeth Hines
---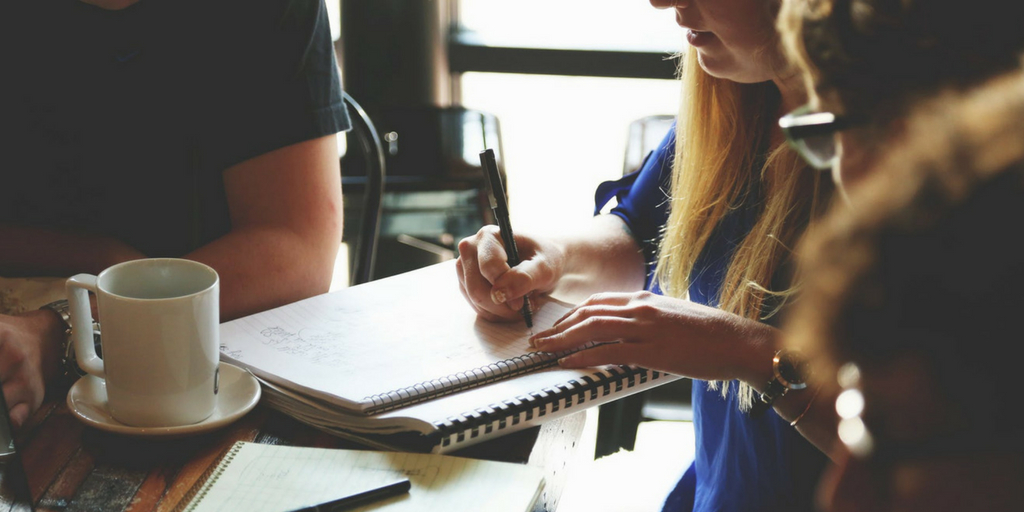 When your content marketing and sales forces align their efforts, they form a powerful symbiotic relationship that grows your brand and your bottom line.
There's a big misperception out there that content marketing represents some kind of threat to the job security of sales personnel.
It's absolutely true that content marketing is an inbound approach, contrary to the traditional outbound approach of a real estate sales force. But make no mistake: Content marketing is not a substitute or replacement for an expert sales staff.
In fact, it's when marketing and sales work in tandem that they're most effective. They can help each other out to generate more leads, nurture current leads more effectively, and even help close more deals.
Content marketing helps generate a steady flow of quality leads, and it provides targeted information to usher prospects down the sales funnel. But even quality leads don't turn into sales on their own. This is where a sales staff comes in — to take those leads and cultivate them into new business.
Content marketing vs. sales: Division of labor
For content marketing and sales to work seamlessly together, it's important to have a clear idea of the role of each. They provide different touch points for leads at each stage of the buying cycle. Here's a quick primer:
1. Forming a relationship
In this early stage of the cycle, your content marketing efforts go toward opening up a dialogue with potential buyers and renters. Often, potential leads' first engagement with your property comes when they come across one of your blog posts while searching the web or see one of your social media posts because they're connected to one of your followers.
This is when your sales staff picks up the ball, keeping that positive contact going by developing it into a conversation. It's your sales team's job to cultivate an ongoing personal relationship with leads that come in because they encountered your content.
2. Providing information
Now that you've established a relationship and your sales team is continuing a dialogue with your prospect, content marketing can step in. Potential buyers spend more time than ever researching properties, considering content such as blog posts, neighborhood guides, and social media posts before making a purchase decision. The content that you share with prospects at this stage of the buyer's journey should be designed to answer informed questions and tip the scales in your favor.
At this stage, your sales staff should be directly answering questions from prospects. When a lead reaches out with a query, it's likely that he or she has done a fair amount of research. So your sales reps need to speak specifically to the customer's needs in a way that content alone can't do to keep them interested and moving down the funnel.
3. Advocating for your brand
Content marketing increases brand awareness for your properties. It helps elevate your brand position within the real estate industry and keeps your property in their sightlines, even at a time when potential buyers aren't ready to make a purchase.
When a prospect is preparing to make a purchase or to rent property, your sales staff is the primary advocate for your brand and properties. They should be proactive in pursuing business when leads show interest in your content or when they reach out with questions. They drive dialogue and get to know potential buyers and how your property can suit their needs.
A match made in heaven
When content marketing and sales work together, you'll see the results hit your bottom line. Curating and creating great content will generate quality leads for your company and can empower your sales force to build relationships with potential buyers and renters — and to close the deal.
Related posts:
Archive for Elizabeth Hines
---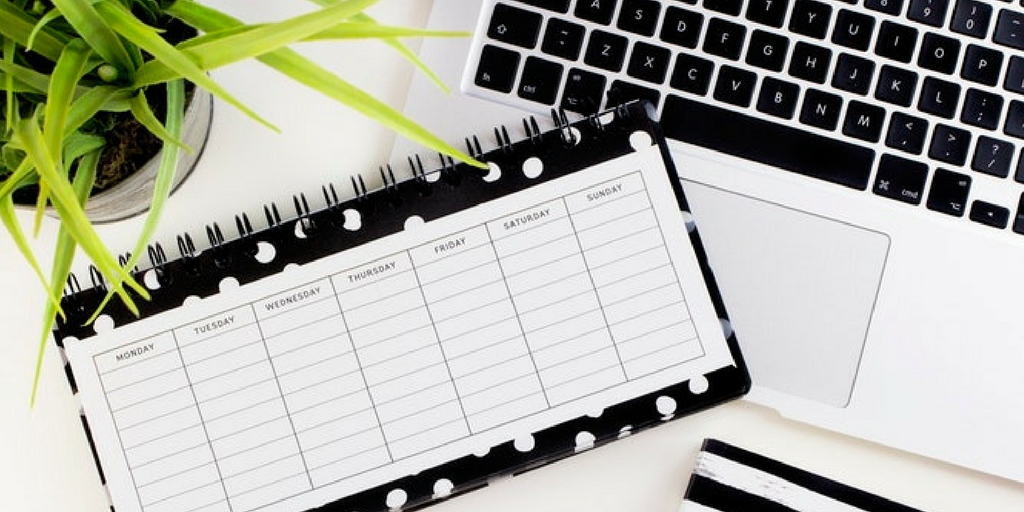 Check out these marketing automation tools for email workflows, social media scheduling, and customer relationship management.
Lately it seems like everyone is talking about marketing automation. As real estate buyers increasingly demand personalized experiences through the buyer's journey, marketers' jobs are getting tougher. They need to provide custom lead-nurturing content to all prospects in their databases.
And that's where automating marketing tasks can help.
The term "marketing automation" refers to a variety of tools used to automate the process of personalizing leads' interactions with your property. The sheer variety of these tools can sometimes be overwhelming — so we've pulled a few of our favorites in the categories of email workflows, social media scheduling tools, and customer relationship management.
6 marketing automation tools for real estate marketers
Email workflows
1. Customer.io
This tool lets you send targeted messages to your prospects, crafting them based on how they interact with your property, and making personalized messages simple. You can also keep track of conversions and create customer profiles. Our favorite part? It integrates with your mobile app or website, letting you see data in real time and trigger actions by adding in predefined rules.
2. Constant Contact
This powerful tool has some features that are unique — and can take your marketing capabilities beyond the basics. Beyond setting up and managing an automated database, Constant Contact offers Facebook fan promotion, coupons and deals, and event management.
Social media scheduling tools
3. AdRoll
This is an extremely effective tool for retargeting prospects through re-engagement on Facebook, Twitter, and elsewhere on the web. It offers cross-device and cross-platform retargeting capabilities, as well as flexible segmentation, letting you provide customized experiences that dramatically improve your marketing efficiency. It also offers customized budgeting and full control over ad spend.
Customer relationship management (CRM)
4. Pardot
Pardot is an all-inclusive marketing automation suite, but it's particularly strong for amping up your engagement with CRM integration. It's a great tool for helping your sales team shorten the sales cycle. And, in addition to CRM integration, it offers email marketing, lead nurturing, lead scoring, and ROI reporting.
5. Marketo
This cloud-based marketing software lets you drive revenue with lead management and mobile marketing. It not only helps build prospect relationships, but it helps you sustain them as well. Best of all, you can try it out for free until you're sure it's right for your company.
Bonus all-in-one tool: HubSpot
HubSpot is an inbound-marketing tool that lets you generate leads, close deals, and manage your sales pipeline from start to finish. It integrates beautifully with a content marketing strategy, with the goal of turning outbound leads into inbound ones. It includes revenue reporting, custom-event reporting, custom-event automation triggers, predictive-lead scoring, contacts and company reporting, and event-based segmentation.
What marketing automation tools do you use?
Related posts:
Archive for Elizabeth Hines
---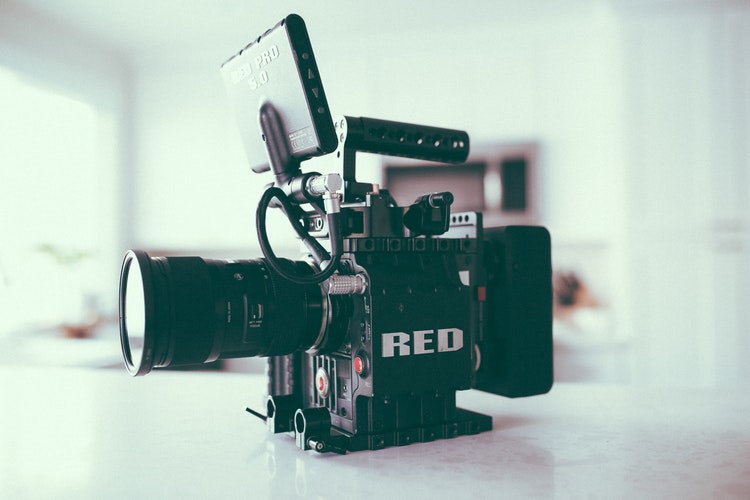 Placester's 2018 Real Estate Marketing Survey reveals these real estate marketing trends: lead generation, challenges, the rise of video content, and social media.
Earlier this year, digital marketing platform Placester published the results of its 2018 Real Estate Marketing Survey. The survey collected data from hundreds of real estate professionals nationwide and contains valuable information for benchmarking your marketing efforts, in "an industry ready to invest more time, money, and energy toward online marketing and generating more leads."
When we looked at the survey results, we found that there were four big takeaways for real estate marketing professionals: goals, challenges, the rise of video content, and social media. Our infographic below delves into each of these four key areas.
Why are these results significant for me?
First off, you can learn a lot from looking at the aggregate goals for the real estate industry. Understanding what peers are working toward can help you tailor your own efforts, prune unnecessary practices, and optimize your marketing efforts. Knowing, for example, that 40.3% of survey respondents cited lead generation as a top objective helps you get to the bottom line: Regardless of experience, skill level, or niche, real estate professionals are focused on attracting valuable clients, and you should be, too.
Likewise, having an understanding of industry-wide challenges can offer valuable insight. Placester's survey reveals that just as lead generation is a top priority for the majority of respondents, it's also the top concern for real estate professionals.
As far as techniques go, one of the most popular marketing tactics for greater exposure in 2018 is emerging as video. The survey reveals that the real estate industry is embracing the power of video marketing. And the good news is, you don't need an expensive camera, lighting, or a production studio. Your smartphone can be just as effective for creating video content for your social media outlets.
Which brings us to social media. A whopping 84.6% of respondents pointed to Facebook as the social media network they will use the most in 2018. And for good reason. Facebook is ideal for real estate marketing in many ways. Its large user base makes it a go-to network, as well as its robust mobile presence, with location-specific advertising and sophisticated algorithms to help you reach your target audience.
Check out our infographic below for a summary of the rest of Placester's data.
Real estate marketing trends 2018 infographic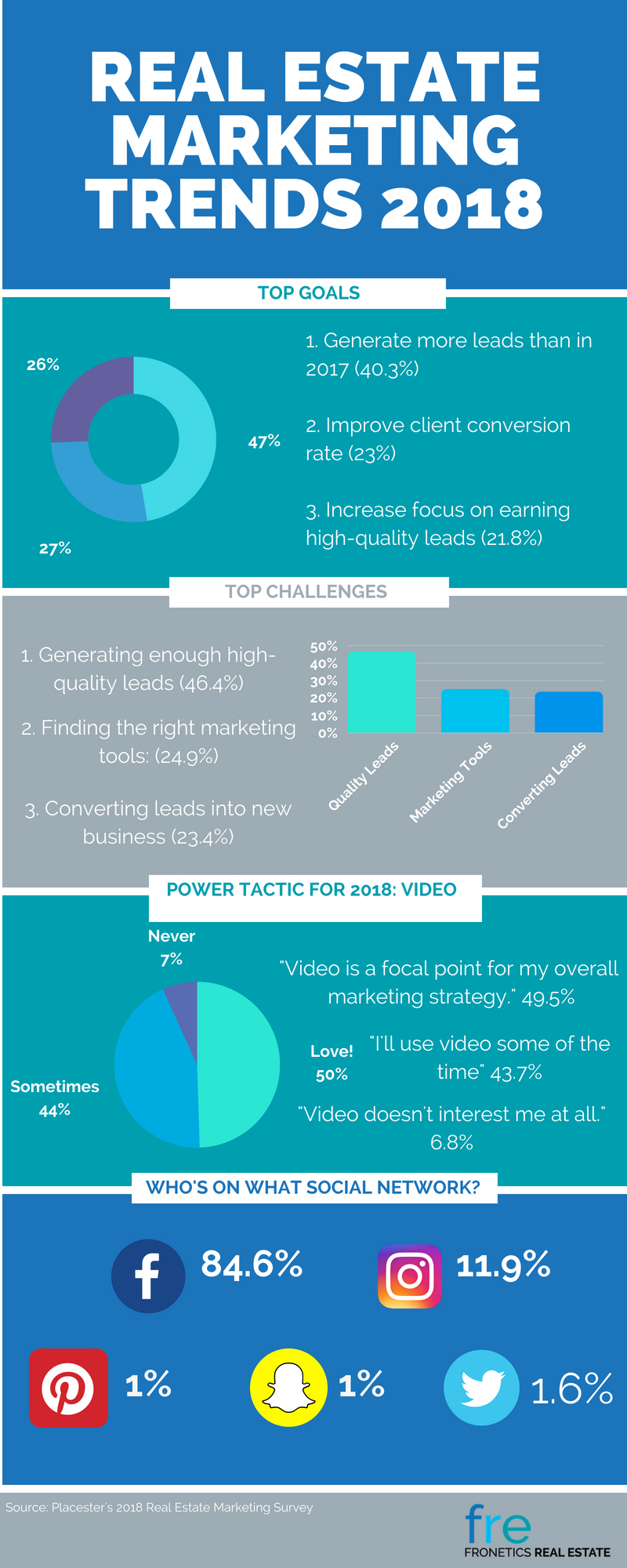 Related posts:
SaveSave
SaveSave